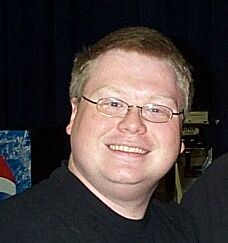 The Offi
cial Website of David Wills aka "The Crying Wrestling Fan"
If you work in New Media representation and might be interested in representing Mr. Wills, Please contact kongadave@yahoo.com
David Wills appears on TOSH.0 for a WEB REDEMPTION on 2/15/2010!!!
Be sure to listen to the Dave and Danger Show every Tuesday at 8pm on the Georgia Wrestling History Radio Network
David Wills, 25 year plus wrestling fan, became an Internet Celebrity when a popular video clip of him was shown all on the Internet of him crying at a Spartanburg, SC Wrestling Fanfest. The clip was even played on The Jimmy Kimmel Show on ABC-TV. Since then, David has been appearing on Internet and Broadcast radio shows and writing a column for the website, World Wrestling Insanity . Through it all, The Marietta, Ga native still considers himself just a fan and remains passionate about his love for the sport of professional wrestling.
Dave Wills "It's Still real to me...Dammit!" T-shirts available at Titan T-shirts Get one today!!
Read Wills' explanation of the events leading up to his breakdown here.To read about my March 4th appearance with SCW of The Carolinas, please click here.
Mark Danger's Myspace : Mark Danger's My Space

Click here to get your own player.


Original Dave Wills "It's Still real to me...Dammit!" T-shirts available here.
Comments about Dave Wills and the clip:
"I like when the wrestler goes "Take it easy, man." You know, I guess the fans of that wrestling sh*t are as unstable as the wrestlers themselves." - Howard Stern, King of all Media, 5/13/08
"That man should be arrested. I know he's done something." - Robin Quivers, co-host of "the Howard Stern show", 5/13/08
"I love the guy. " Ric Gillespie, Canvas Chronicle, Co-host of "The Rick and Steve, er, I mean Karl show" at DragonKing Wrestling.com (2006)
"A great guy.. a tremendous long term fan" ... Manager Jim Cornette, Get in The Ring Radio show (2006)
"A good guy to talk old school eighties wrestling with... He knows his stuff." ... Super Wrestling Historian and DragonKing Wrestling editor/founder Karl Stern, Figure Four Daily with Bryan Alvarez radio show (2006)
"One of the most well known fans in America" ... Bruce Mitchell, Wrestling Weekly Radio Show (2006)
"Five Star Fan"... Bryan Alvarez, F4Wonline.com (2006)
"What a goof!"... Greatest WWF Intercontinental Champ of all time, The Honky Tonk Man, thehonkytonkman.com (2006)
"I thought that man needed a psychiatrist!" Terry Funk, Wrestling Weekly Radio show, (2006)
"How can I follow that Guy?" Kevin Kelly, World Wrestling Insanity podcast, after finding out Wills has just been interviewed before him. (2006)
"This guy really loves Wrestling" Jimmy Kimmel prior to showing clip, Jimmy Kimmel Live, (2006)

Dave Wills and Lex Luger pimping Wrestlecrap.com.
Thanks to Jim Cornette for putting me over on the recent TNA Conference Call!!

To contact Dave directly, Email kongadave@yahoo.com

©2011 All Rights Reserved.